We've Got You Covered
We provide competitive salaries and comprehensive benefits packages designed to support and protect our team members and their families. Our benefits help our employees stay healthy, feel secure and plan for the future, and maintain a work-life balance.
Recharge with Time Off
Paid Time Off
Holidays
Jury Duty
Baby Bonding Leave
Paid Time Off
Time off allows our employees to refuel and rejuvenate with the activities and people that matter the most to you.
Holidays
We offer 11 paid holidays throughout the year in addition to our standard Paid Time Off
Jury Duty
Our staff is eligible to receive pay for providing service to the court.
Baby Bonding Leave
Leave for new parents to allow them time to bond with their new addition.
Stay Healthy
Medical Insurance & Prescription Plan
LP.SKU-F3.PARAGRAPH_1
International Medical Insurance Plan
LP.SKU-F3.PARAGRAPH_2
Dental Insurance
LP.SKU-F3.PARAGRAPH_3
Vision Insurance
LP.SKU-F3.PARAGRAPH_4
Flexible Spending Accounts for Medical
LP.SKU-F3.PARAGRAPH_5
Health Savings Account
LP.SKU-F3.PARAGRAPH_6
Fitness Assistance
LP.SKU-F3.PARAGRAPH_7
Feel Secure and Plan for the Future
401k Retirement Plan with Company Match
Life and Accidental Death & Dismemberment (AD&D) Insurance
Short- & Long-Term Disability
Flexible Spending Accounts
for Dependent Care
Student Loan Repayment & Tuition Reimbursement
Employee Referral Program
Employee Assistance
Program (EAP)
Veteran Benefits
Military Pay Offset
LP.SKU-F2.PARAGRAPH_1
Tricare Medical Supplement
LP.SKU-F2.PARAGRAPH_2
Flexible Schedules
LP.SKU-F2.PARAGRAPH_3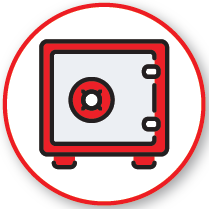 Job Protection for Military service
LP.SKU-F2.PARAGRAPH_4
Join our Talent Network
Not ready to apply? Connect with us and let us know how you want to transform your career and we will send you details about upcoming hiring events, personalized career opportunities, and more!
Start by connecting with us today!